Have you heard the word about Gwynnie Bee?
Well, if you haven't, let me tell you about the best secret when it comes to plus size fashion that everyone should know! Simply put, it's the Netflix for plus size clothing. No joke! When I found out about Gwynnie Bee, I was so excited that something like this finally exists for plus size! I just had to get behind it!
Here's how it works: You pay a monthly fee, and they will send you either 1, 3, 5, 7 or 10 items at a time, depending on how many you decide you would like to receive. The great thing is, just like Netflix, you can send back, receive new items, and keep items for as long as you like. When you're done, you simply put them in into the pre-paid shipping they send you with your package, let them know that you're sending it back, and they will promptly send you something new! There's no late fees and shipping is free both ways, so all you're worrying about is rocking some seriously killer looks. 
What is also really fun is the virtual closet. Once you start your subscription with Gwynnie Bee, you can browse through all their designers and great items, and add them to your virtual closet. You can browse by size, which really helped me step out of my comfort zone and look at things I usually wouldn't. The truly great thing about Gwynnie Bee, and why I'm gushing about them is this very reason- You get to try before you buy. This peplum top I am wearing, I would of never ordered that online for fear of how it would fit. But I got it from Gwynnie Bee, because I knew if it didn't work, I could send it right back for something else I'll love. So it is a huge tool for expanding my fashion horizons. Not only that, but I know a lot of people who don't like trying stuff on in the stores. With Gwynnie Bee, you can try on in the comfort of your home and decide what you like. It's seriously clothing without the commitment! Another reason I am so behind this innovative idea is, I'm a college student. As much as I drool over Asos, Elloqui, Evans, and other higher end plus size pieces, I really cannot afford them.  With this service however, I'm looking more fabulous than ever! For what I would pay for one piece usually, I'm sampling tons of them! How awesome is that?! Gwynnie Bee is for any fashion girl on a budget. 
And just look at how cute the packaging is! Everything, from the clothes, the direction, the cards- everything with Gwynnie Bee is handled with love and care. I really admire that in a company. Receiving this little white box in the mail is seriously fashion heaven!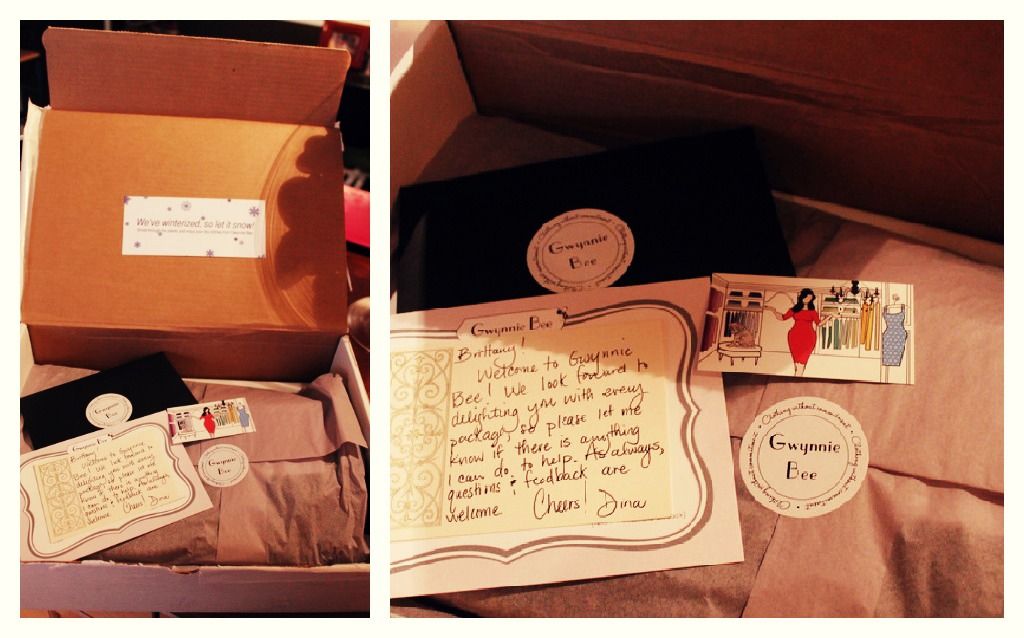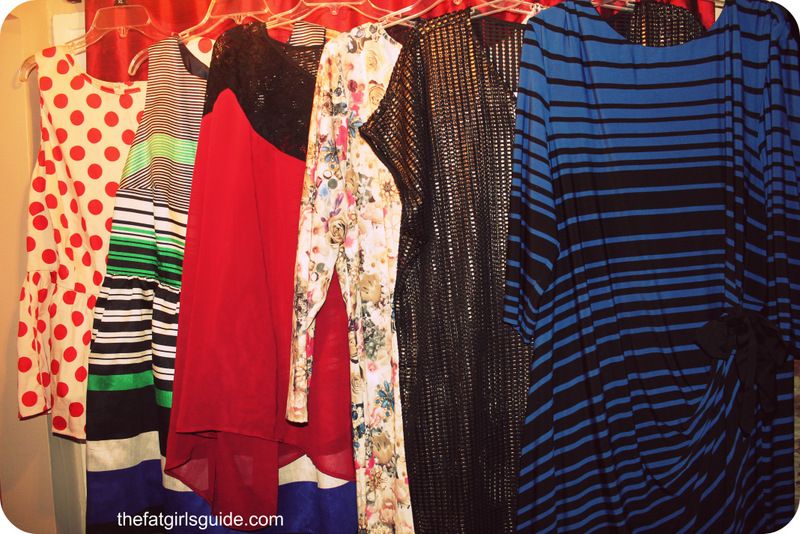 If you'd like your own little boxes of fashion heaven, Gwynnie Bee has been so kind as to offer my readers a free 30 day trial of either the 1, 2, or 3 item at a time plans. (No, like seriously free. No risk or commitment.) Mention that Brittany of The Fat Girl's Guide sent you to get the free trial! I hope you all love it as much as I do! 
Top: Asos c/o Gwynnie Bee // Leggings & Belt: Lane Bryant // Shoes: Forever 21 // Necklace: Brighton // Bangles: Betsey Johnson // Sunglasses: Charming Charlie's